AN INJURY !!!
Wow, seriously. And this training program was SUPPOSED to prevent injuries, because of the amount of training involved.
Well, I am experiencing what is probably
ITBS (IT Band Syndrome)
. It flared up right after my Speed workout on Monday. It feels like someone has taken a 6-inch needle and stuck it in my right hip. I have pretty much rested since then (Biked on Tuesday) and felt like most of the pain, from Monday, had subsided by this morning before my planned workout.
After dropping C off at Kindergarten this morning, I decided to go to the Y and hit the treadmill. The ONLY reason I will do treadmill is when it is overly humid outside, or a chance of thunderstorms. This morning, both was a factor, plus I didn't want to get to wet from the humidity or rain that I couldn't get into work.
I hit the treadmill and eased into my 2 mile warm up. I usually take a good 1/4 mile to 1/2 mile to get warmed up, and today was no different. About 1/2 mile into the warm up I could feel my right hamstring staying tighter than usual, so I hopped off and stretched a little bit. I could feel a "pull" in my hip after I hopped back on, but the further I went, the more I loosened up. I set the treadmill to 6.5 mph and did the rest of the warm up mile at a 9:15 mile pace.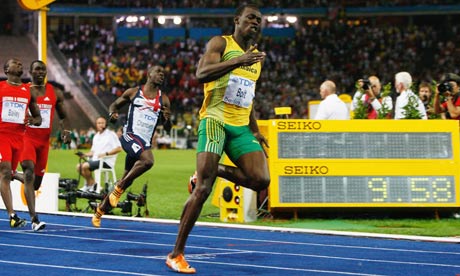 Stretched a bit more and cranked up the speed to a 7:40 mile pace. First lap (the treadmill shows the distance as a 400m track - or about 1/4 mile) went good and I felt lite on my Nikes, but could begin to feel the tightness boiling up in my hip. It hit all of a sudden, and literally felt like someone stuck a needle in there. I shut it down and did some stretching, and headed home (working from home today). Trying to contemplate how to proceed now. I have Jeff Galloway's running book and he says to take Vitamin C 3 times a day and stretch. Lots of info on the web also, but mainly says to take it easy for a while.
At worst, I'm hoping that this just sets me back a week or two on the Speed and Tempo work. I'm going to proceed with my Long run this weekend, but at a slower pace than planned.
So right now, Mr. Bolt over there, doesn't have anything to worry about from me.